AMP or Accelerated Mobile Pages is the Google backed project that aims at speeding the content delivery system through using stripped down code i.e. the AMP HTML. In simple words, AMP is the way to create web pages for the static content and allows pages to load faster than normal HTML.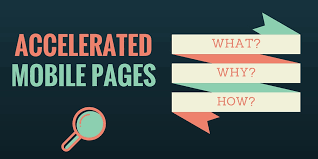 What is Accelerated Mobile Pages (AMP)?
AMP uses open source framework which means that it can be used by other companies for serving content built using AMP HTML like Twitter, Google, Pinterest. Google will now be using these accelerated mobile pages to serve the content on mobile devices without the need of users to have to click through to the website to check the content. You can easily view the demo of AMP within the search results of Google.
Why use AMP?
AMP basically aims to solve the problem of slow loading time. Using the AMP elements, Google believes that the websites can drive this down from a whooping 19 seconds to just5seconds or 400 percent improvement in performance. Indeed, AMP's optimization techniques will help the pages to load instantly.
Well, AMP makes it very easy for the publishers, advertisers to offer resource intensive content like image carousels, plug-ins and video by reducing the total bandwidth required to deliver this kind of content.
Drawbacks, are there any?
AMP HTML is especially made for improving readability as well as speed of the content. Thus there are a few visual limitations including:
Images will load just as you scroll down to those
No JavaScript allowed apart from AMP library
CSS version required

Now moving ahead, let's take a look at the main pros and cons of AMP here:
Pros at a glance
As AMP is the open source, by loading the web pages faster, you may see SEO benefit because speed serves to be big ranking component in SERPs
It is possible to get carousel in mobile SERPs
There is a WordPress plugin that you can expect to pop up for Joomla, Drupal and Magento
As this is a project by Google, you can assume that the AMP pages will be its own ranking factor
The AMP HTML prevents the users from bloating the web pages with JS and CSS frameworks
There are a lot of options for customization and control like the chance to not use AMP cache
Cons
It may be tough to implement these pages if you are not an avid developer
There are some features missing, but they may be added later
It introduces complexity to some extent
Areas of benefit
Google states that there are mainly 3 areas of benefit if you adopt AMP including:
Content- AMP makes it simpler for the publishers and developers to deliver resource intensive content like image carousels, video and plug-ins
Ad delivery- At the very heart of AMP is the aim to protect cash cow advertising franchise of Google. Google aims at growing $80 billion ad revenue annually. AMP was basically introduced to work with different ad formats, work with ad networks etc.
Distribution- Through making AMP cache available, massive universal footprint of the data center will save as well as deliver web pages with high efficiency. Imagine Akamai for the publishers. It even extends Google's hold over content in similar way as Instant Articles by Facebook.
Further, if readers are coming to your website mainly to read the content from your site's news or blog section then it is a sure shot chance for you to get started with Google's mobile results through creation AMP of your content.
Take for example that there are 3 sites on How to guides covering the same topic, and there is just 1 site from those that serves the AMP version of the content. In such a case, the site with AMP version will definitely appear above in the regular results and searches.
Summary
As now you can see that the Accelerated Mobile Pages are surely to keep an eye on, what are you waiting for? Stay tuned with us to know more about AMP like how to use AMP, how to get started with AMP, what all you need to know about AMP and much more.