Most people who get started with SEO, make a common mistake of ignoring the importance of competitive analysis in the beginning stages.
Let me remind you, optimizing content, mapping keywords and link building all are the important aspects of successful content marketing but none of these have priority over competitive analysis. Understanding your competition gives you an unprecedented edge over your competitors as it opens you up to the blind spots and gaps that you might even not be aware of.
This is why we are here with a valuable and in-depth guide to keyword driven content auditing. Once you are through this guide you will know what keywords are most valuable for your website, what backlink strategies work best for you and how to win the organic visibility.
Let's get started
You will be using the Keyword Explorer tool for the MOZ for this analysis. As the tool is free to use you do not have to worry about anything.
Start with the "Exact Page" filter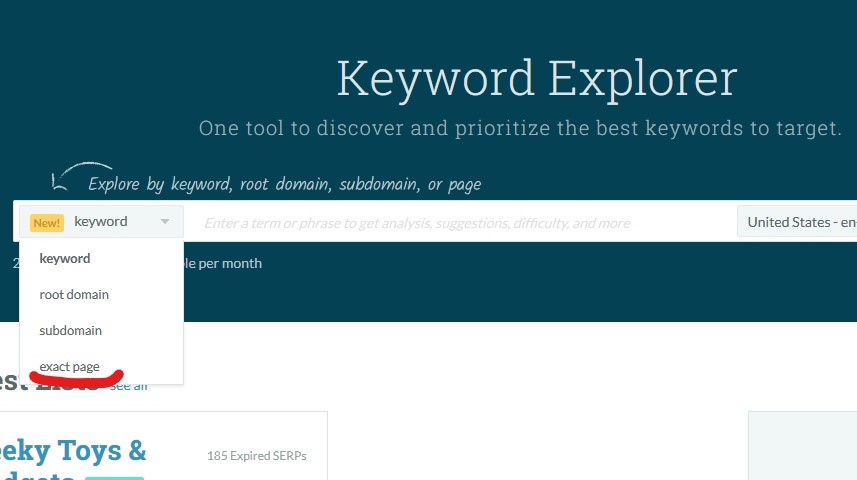 Moz has recently added the exact page option to the Keyword Explorer that makes it incredibly easy now to get to know what keywords a particular page on a domain is ranking. It is simply awesome for competitor analysis. We chose Searchengineland.com for the analysis, we looked for the keywords for which this page ranks https://searchengineland.com/guide/what-is-seo and we found the following results-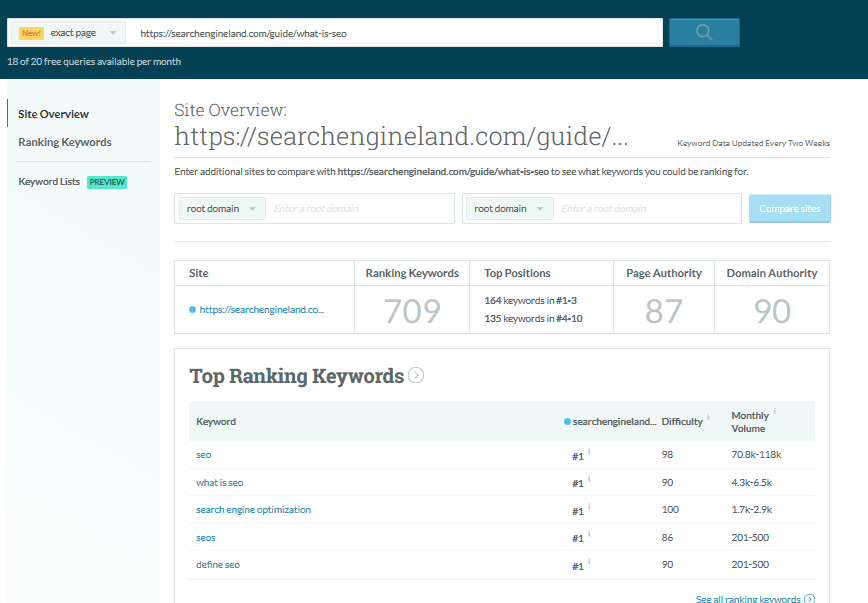 Now you can clearly see what keywords the page ranks in the top 50 results. You can do the same for pages on your website. This will give you a fine idea of what pages are worthy of a rewrite and what keywords you should target.
This step is very useful and highly efficient to do keyword driven auditing of a single page, but what about auditing an entire site?
Here's a 5 step strategy to do the same.
Step 1 – Procure all the rankings
Now if you do not know what pages on your website are the hidden gems, you will have to audit your entire site. To do so choose root domain option keyword explorer tool and entire the domain. We analyzed Searchengineland.com for the root domain.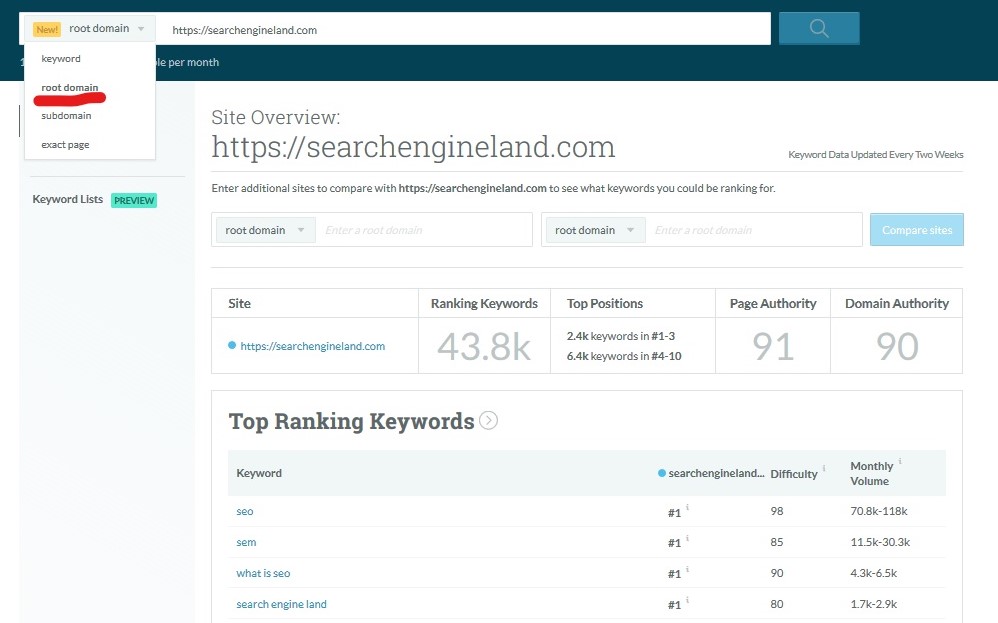 Now there are over a million keywords for which the website ranks and it is not easy to find which are these keywords are helpful doe reinventing the content. So we click on the "Top Ranking Keywords" and we are provided with a list of words that we can focus on. In this cause, SEL has 43,796 top ranking keywords out of millions.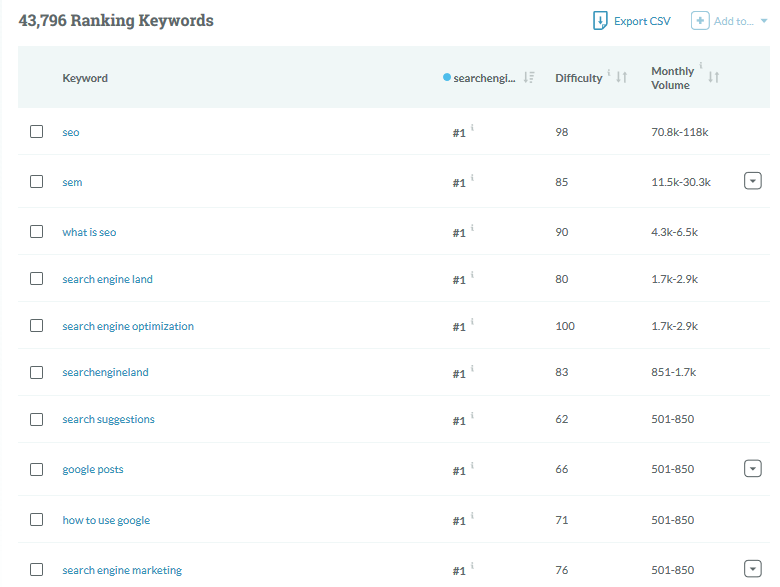 Step 2 – Export keywords
Once you have the list of keywords available you need to download it. Use the "Export CSV" on the screen and a report will be downloaded with the following columns:
Keyword
Minimum Volume
Maximum Volume
Keyword Difficulty
Top Rank
Top Ranking URL
For us the last column is of most importance as it contains the list of URLs for which we can start working on to reinvent its content.
Step 3 – Filter pages
When you have a list of pages along with the keywords they rank for, you will need to find the pages you can re-work on. For instance, if you have a product page or a landing page, you can't really do much with it but there are pages you can harness to rank again. Blog pages are the most convenient to rewrite and re-rank.
Filter such pages and prepare a separate excel sheet.
Step 4 – Pivot pages
Now you have the list of potential pages, but still, it is a list with too much duplicate content. You need to drill it down to exactly unique URLs and the respective keywords they are ranking for. For this, you can use this great tutorial on pivot tables.
Once you have been through this step, you will have an actionable database ready to be acted upon.
Step 5 – Find suitable candidates
When we look at the data that is drilled down you will find connections between pages and posts that you can work upon. For instance, there will be some pages that were buried in the background but are ranking higher for keywords you never even though about while working on them.
Such candidates would be great candidates for an update and might be perfect for a rewrite.
Step 6 – Back to Exact Page explorer
You do remember the exact page tool we detailed in the beginning. Now you have to reuse that tool for the perfect candidate page you find in step 5.
Once you run that exact URL in the explorer tool you will almost double the number of keywords to work on for the rewrite. This opens an entirely new domain to structure and rewrite content with more interesting keywords.
Proceed Further
This is a simple yet powerful guide on how you can relive the power of quality but old content using the MOZ's keyword planner tool. Keyword driven content auditing is very important to rank higher and harness the value of potentially helpful content.