For effective SEO, Meta title, Meta keywords and Meta description play a very important role. Thus, to enjoy high rankings and online presence, these Meta tags should be given due importance and attention.
Why Meta tags are so important?
Though the Meta title, keywords and description are not the only factors that the search engines take into notice when ranking the sites, they should indeed not be left off page as well. The Meta description is supposed to serve as the concise and brief summary of the web page's content. On the other hand, the Meta keywords are the summary list of the important words on the web page. Similarly, Meta title is the main heading of the web page that should contain the most important keywords and highlights of the site.
Meta keywords and their use
Ideally the keywords should have 10 to 15 words. You can repeat 3 most crucial keywords once but in case you repeat them more than this, the search engine will ignore them and will not list or index your web page.
Always remember that the Meta keywords should be web page specific and not website specific. Try not to put same keywords on all pages of your site. In case you have one web page about breeding the cows and the other on how to milk cows, then keep the keywords related to the pages or content they are talking about. In case a user looks forward to get details on breeding of cows, they will see your web page on the breeding cows if you have proper keywords, title and description for it. Also, they do not need to know about milking of cows and so; you should refrain from mixing one page's keywords into other just to increase the number of keywords per page.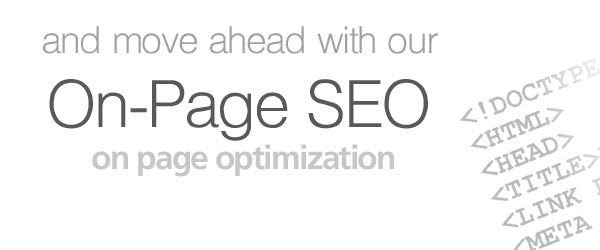 Why Meta description?
Meta description is the first piece of content that the searcher will observe while searching for some products or services that your company has to provide and so when you compete with a number of other companies to get the attention, you should pay due care to meta title, meta keywords and meta description tags. All these effectively act as the advert of your business and thus hold due importance for effective SEO.
The Meta description is critical when it comes to attracting the traffic to your website. The title tag that accompanies description tag cannot effectively communicate the working of a company and so it is best to use the appropriate keywords and description.
Thus it can be said that the title along with keywords and brief description all add up to attract the traffic and help in effective, successful SEO for any site.
With our various case studies we found On Page SEO can scientifically improve your Search Engine Rankings and for that you can choose our Complete On Page SEO Service and see the Guaranteed changes in your SERP.