If you are looking forward to know what actually "anchor texts" are, just read on. Say you are browsing the Internet and come across the words "Spanish cooks" in blue color written somewhere. And so, when you click on the word, it takes you to some other web page or link where you get amazing details and images on the Spanish cooks. The blue colored and underlined text that links to the other page is the anchor text.
How to Use Anchor Text Wisely
Now when you know what an anchor text is i.e. it is the text that is linked to some other web page or URL, you need to know how to best use or incorporate the anchor texts. It is good to note that various anchors from a single page do not offer much value. This means that if a page includes the anchor text "Spanish cooks" a number of times, it is not helpful. It will not add any value and so there is no reason to use the same text a number of times on the same page. So, it is better to use variation in your text. Like, you can use the anchor texts "Cooks in Spain", "Spanish chefs" and so on.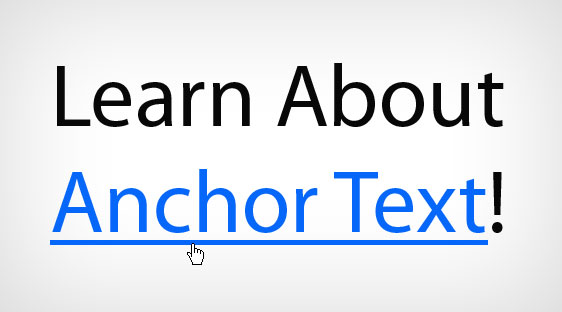 Also, multiple pages help but in case they are from same domain or URL, it is not as valuable as when they are from various domains. So, diversity of not just the anchor text is important, but even of the source is.
Then, fluctuating or changing the anchor text is crucial. Like said above, it is important to have diversity in your anchor text. You can thus vary the text differently like "Spanish cooking" and more. Further, Google and Bing usually count the very first anchor text in the page. So, it's best to incorporate the anchor text towards the start of the web page rather than in the middle or end.
Even the internal anchor texts help a great deal i.e. the text which comes from your site, your site's pages. Although there is small benefit from it, but it actually helps. You need to link in a way that the people believe that your website is amazing and so, it is great if you can work in the anchor texts well.
Final Verdict
Last but not least, even the surrounding text matters. This is important when the anchor text doesn't have much context or value and so the search engines use the surround text. These are thus some of the points that need to be kept in mind about anchor texts and how to use them. These details will surely help you to use the anchor text properly and effectively. Not just will your readers like the linking through this way, even the search engines will smile upon your site in no time.
We hope these details will not just help the newbies, but even the experienced SEOs.