We start this with October 1st and it's a Monday so time for another SeoEaze's weekly roundup for you. The September ended with some frequent updates from Google. Now let's see the first SEO roundup of the month.
Google Birthday Update
On September 27th, Google confirmed a smaller update of the algorithm on its 20th birthday, none other than Medic Update. On 1st August, Google's Danny Sullivan gave some hints about the updates in the Medic algorithm. This update is not a bigger one like earlier birthday updates of Google algorithms, but a smaller one. He said that he posted this update last night in the SEL.
Danny Sullivan made a confirmation that "We haven't had a major update of that nature, but we did have a smaller one this week."
Our core algorithm is updated all the time. For major updates, we'll continue to share about those on @searchliaison, as we have been. We haven't had a major update of that nature, but we did have a smaller one this week.

— Danny Sullivan (@dannysullivan) September 29, 2018
Some people say that this is a smaller update and Danny said that it is simply a Google Birthday update. Some experts say that it is called as a smaller update since one can call it a smaller one since its impact on local business page rankings is smaller when compared to previous birthday updates.
He added that some people are saying it is a reversal of previous updates and some said that this one impacted their sites badly and some said that by this birthday update, their sites recovered from the havoc of previous algorithm updates.
Sullivan added that though it impacted a smaller number of sites, the impact is tougher on the sites it could impact.
Now Credit Metadata Added To Google Images Search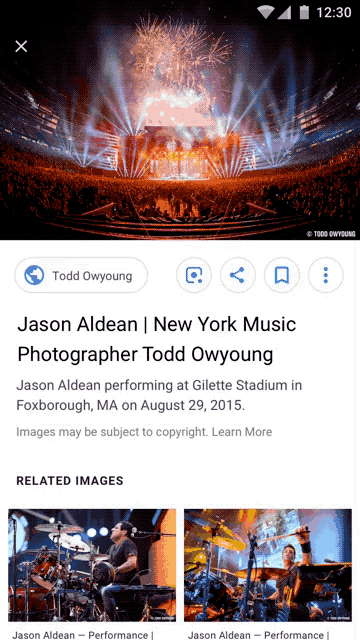 Google made an announcement that they added creator and credit metadata and will add Copyright notice Metadata. By this update, Google will update Image credits information on the image along with Google Image Search. Google further added "Also in partnership with CEPIC and IPTC, we hope to create better usage guidance for photographers, photo agencies and publishers to include copyright and attribution information in image metadata. For more on how to best implement IPTC metadata, refer to the IPTC Guidelines."
Google My Business Video Verification Feature
Two years ago Google started testing methods for the verification of local business by using Google My Business through a video call. Here is the synopsis of Google's Ben Fisher's Twitter screenshot in this regard.
In the recent update, the user can select "verify now through live video chat with our operators" and then select "connect" button. This is not meant for all businesses. This is a default option in the Help menu but it comes up occasionally.